The Company Armor Engineering deals with the design, manufacture and installation of various types of armoured doors.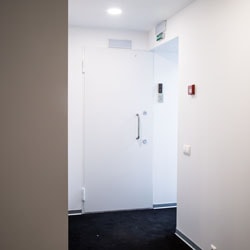 Armoured doors - doors that satisfy certain specific requirements.
According to the purpose all armoured doors can be divided into several types:
Burglar proof doors - doors with a high protection against hacking attempts and penetration inside the protected areas. These doors are installed in a number of special facilities as armoured cashbox cabs, safe rooms, panic rooms, repository values of the Bank , the repository values of customers, depositories, drug storage rooms, other areas with high security requirements. The Burglar proof doors classification main document is ГОСТ Р 51113-97 "Means protective bank. Requirements for resistance to burglary and test methods ".
Our company manufactures Burglar proof doors according to protection class 0, I, II, III, V, VI, VII.
Bulletproof (bullet-proof) doors - the doors are designed to protect against shots from firearms. Bulletproof doors are installed in the armoured cashbox, shooting ranges, exchange offices, guard posts, checkpoints and in the premises for security guards. The bulletproof doors classification main document is ГОСТ Р 51112-97 "Means protective bank. Requirements of bullet resistance and test methods".
Our company manufactures bulletproof doors according to protection class: 1, 2, 3, 4, 5 and 5A (6 and 6A - possible to produce).
Each armoured vault door is made only to individual order.
Each armoured vault door is equipped with:
Strong steel frame is made from metal profiles, pipes and metal beams
Door leaf is made from metal, composite materials with a special filler
High-security locks (according to the requirements of hacking)
System "Deviator"
Reinforced metal hinges
Minimum clearances between the elements of the frame and leaf armoured doors
Coloring armoured door in colour according to RAL catalogue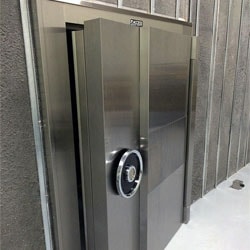 Armoured vault doors are equipped with high-security locks according to ГОСТ Р 52582-2006, ГОСТ Р 5089-2011, ГОСТ Р 538-2001, ГОСТ Р 51053-97. We use METTEM, CISA, Carl Wittkopp (CAWI), Abloy, Mottura locks for our armoured doors. In accordance with ГОСТ requirements or customer wishes we install locks with vertical rods, emergency opening device, addition bolts, electromagnetic and electromechanical locks, or any cylindrical locks and chubb ditector locks for our doors.
The feature of our armoured doors is protection (through the using of a special system) from the free opening of the door leaf after cutting the hinges or locks crossbars.
Armoured vault doors of our production have numbers of advantages:
Armoured doors are made only by order
Armoured doors can be single, semidouble, or double, without restrictions on opening
Equipment additional safety equipment and other devices
Armoured vault doors can be equipped with the following types of devices:
Lattice door
Peephole (except bulletproof doors)
Mortise electromechanical or electromagnetic lock
Door closer
Transfer device
Evacuation hatch, hatch to transfer items or weapons
Window
Transfer gateway
Magnetic detector for door position (reed switch)
Insulation (for street doors)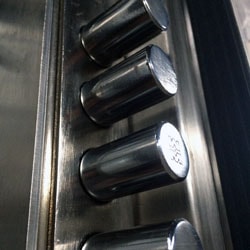 After the manufacturing armoured vault door, it can be painted in any colour selected by the customer according to RAL catalogue. Our company also provides services for unilateral or bilateral finishing armoured doors various finishing materials.
All armoured vault doors have certificates of conformity and are installed in financial institutions and offices, as well as in private homes and apartments. The application of these armoured doors corresponds to the order of the Bank of Russia dated 10.01.2002 № ОД-7 "Buildings territorial chief administrations, national banks and cash settlement centers of the Central Bank of the Russian Federation" (ВНП 001-01/ Bank of Russia). Application of these armoгred vault doors also corresponds to the Provision of the Central Bank of the Russian Federation № 318-P dated 24.04.2008 "On the order of cash transactions and the rules of storage, transportation and collection of banknotes and coins of the Bank Of Russia to credit institution in the Russian Federation" (Appendix № 1. Facility Requirements for transactions with values and software and hardware of credit institutions).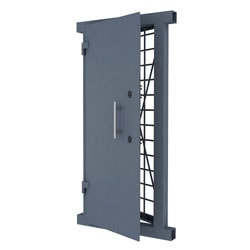 Our company manufactures and installs doors to the weapon storage rooms. These doors meet the the MOI standards, the order № 288 "On measures to regulate the circulation of civilian and service weapons and ammunition on the territory of the Russian Federation", section XX "Requirements for the placement of weapons, equipment armory, storage facilities, warehouses, premises for display, demonstration or trade in arms, shooting ranges".
Our company also provides services for the development of non-standard armoured vault and bullet proof doors, installation services and dis-assembly armoured doors, emergency opening armoured doors, opening safe doors and doors of repository values without breaking the structure of the doors.
We hope this information will be interesting and useful for you, please, contact our experts on the issue of cooperation in the production of armoured doors be the phone:
8-495-409-13-53 or mail armor@armor-russia.ru

Бронированные двери