Company Armor Engineering engaged in the designing, supply, installation and subsequent repair of various types of automatic road blockers (bollards) Pilomat and other fences versus battering ram and devices.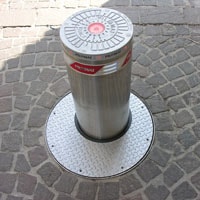 Bollards - is the most effective option fences versus battering ram, designed to prevent unauthorized access road transport to the protected territories. These devices help to ensure a high level of safety of buildings and enclosed territories, creating an obstacle for approaching dangerous cars.
There is a large model range of bollards and fences versus battering ram, each model is applied depending on the degree of potential risk and the required level of safety of the facility.
Italian bollards Pilomat - it is a functional automatic devices which are intended for such purposes as:
Blocking access road transport to certain zones and objects
Organization of anti-terrorist protection
Reserving parking places
Series automatic blockers Pilomat incorporates such a device which can raise the movable portion at a height of from 400 to 1200 mm and fix it on the lifting height.
Bollards can completely replace the usual barriers and other obstacles, while having a high degree of aesthetics.
Bollards are the most effective and functional road blockers, which are successfully used in the city and beyond. Bollard is driven by a powerful hydraulic or pneumatic actuator, by which rise and fall of its retractable part. It is driven by command any convenient way - running with the remote, key FOB, in recognizing the license plate of the car, other control systems and access control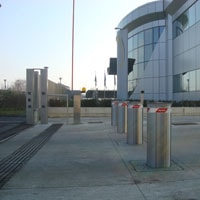 Road blockers Pilomat can be equipped with various devices and options. One of the most essential options for Russia is a built-in heating system of the bollard, which allows him to work in the range from -30 to +60 degrees. Important options is also audible and visual alarm, built-in pump for pumping wastewater.
Bollards can be painted in any color or finish stainless steel. The company Pilomat also offers customers a service application of any of the logo on the body of the bollard, or even making outdoor cap engraved with the logo of the client.
Scope application of bollards is so vast that it is difficult to enumerate all the objects where they are needed. Even the most modest list will consist of a large number of points:
Manor houses, cottages, country houses
Parking of road transports, parking
Warehouses and industrial premises
Industrial zones
Airports and railway stations
The pedestrian zones
Supermarkets and shopping complex
Shopping centers
Markets
Parks and recreation zones
Federal highways
The underground
Halt of public transports
Exhibitions and galleries
Places of a mass congestion of people
Administrative objects
The residence of the presidents of the republics
Government buildings
Embassies and diplomatic missions
Hydroelectric and nuclear power stations
Buildings or other objects that represent the national and cultural heritage
Among the advantages of bollards Pilomat it should be noted data quality auto accessories:
The ability to provide protection against any possible intrusion into protected its zone
High resistance of fences versus battering ram
Easy maintenance during operation
High efficiency of the bollard and reliability of its constructions
Durability of its constituent parts and mechanisms
Opportunity to look good in the urban and suburban landscape
The ability to attach an object, near which they are installed, the special status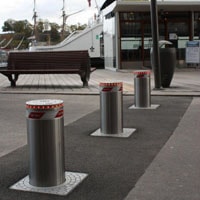 In contrast to the barriers, bollards do not interfere with the movement of pedestrians. It can be used for various architecture solutions.
The successful application of automatic bollards Pilomat is possible in zones of heavy traffic, where other similar devices can not be used because the rate of lowering and raising the movable part of the device - 100 mm per second. It is possible to man up bollards special devices. If necessary, it will reduce to 0.7 seconds time for which can be raised sliding part.
For more information on the submitted of automatic bollards Pilomat and answers to all questions, as well as consultation on cooperation can be obtained in our company.
We hope this information will be interesting and useful for you, please, contact our experts on the issue of cooperation in the production of bollards be the phone:
8-495-409-13-53 or mail armor@armor-russia.ru

Болларды, противотаранные устройства