Company Armor Engineering engaged in the designing, supply, installation and maintenance of automatic doors manufactured by Saima Sicurezza, Tonali and TAU Italia.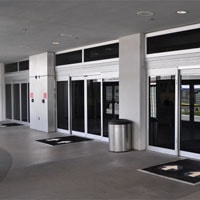 Automatic doors are a modern and convenient device that provides quick and comfortable access to the premise. Automatic doors - constant attribute of modern office buildings, exhibition halls, business centres, shops and other cultural objects, providing barrier-free access and heat protection for the premise.
Providing convenient contactless opening and closing, automatic doors are reliable and have beautiful appearance.
For the functional purpose of automatic doors are divided into several types:
Automatic sliding doors
Automatic swing doors
Automatic folding doors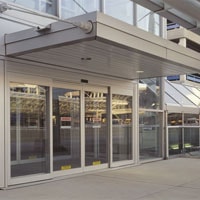 Sliding automatic doors - this is the most common type of automatic doors, providing automation of input combined with stylish elegance and ergonomics (space saving). Such doors can be installed in the aperture of any building, where for opening and closing is enough space. A high level of security of people, easily overcoming the door barrier is provided by the opening of the valves in the direction of incoming and outgoing visitors. For the prevention of accidents apply infrared photocells reacting to the presence of people in the zone of automatic doors, and stopping traffic on the closing of the door cusps.
Telescopic automatic doors are necessary if need in limited aperture, to provide a door opening on the maximum width. Working cusps such doors have a composite character with 2 or 3 stages.
Telescopic doors and automatic sliding doors can be equipped with additional functionality:
Gateway (entrance is made two doors, working on the same system)
Automation of the building (the door is integrated into the existing electronic control of building)
Alarm lock
The mode of evacuation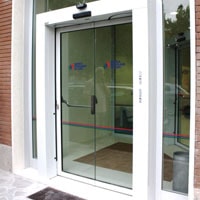 Automatic swing doors - a practical option with a tight closing and simple installation. It is easily mounted and installed in the aperture after minor revision of an existing input space.
The specialists of our company can not only install a new swing door, but and without much difficulty to automate existing mechanical door.
Automatic folding doors is advisable to establish those premises, where free space is very limited and other types of doors can not be set. Compact size is ideal for small spaces. This type of door is ideal for retrofitting buildings and reconstruction of premises in the ongoing repair.
Our company manufactures an installs different types of automatic doors, as well as providing services for the development projects of the entrance groups.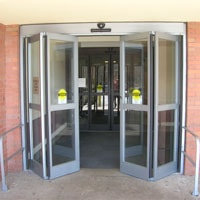 Depending on what function should be performed by an automatic door, and whether it is intended for new construction or modernization of an existing object, we will help to choose the optimal design of the entrance to the building, which is the most appropriate in each case. It will allows provides maximum comfort for people on entering and leaving the building and the owners of buildings - sensible savings.
Automatic doors can be glazed, on the desired class of burglar-proof, bullet-proof or fire resistance.
Automatic door, as part of the overall access control system can be driven through a series of devices:
Digital code (code dialing panel)
Radar for automatic door opener
Biometric reader
Proximity card
Remote control from the control center
Pressing the special button
Preset timer intervals
Automatic doors are installed in premises, where there is a need for a regulated movement of people to institutions and enterprises. The automatic door is the perfect solution for installation in public places:
Railway stations and airports
The Underground
Gas stations and service station cars
Garage and parking complexes
Public institutions
Business centers
Shopping and entertainment complexes
Galleries
Office buildings
Hotels and restaurants
Multiplex cinemas
The buildings of the sanatorium-resort destination and hospitals
Boarding houses for elderly people
Automatic sliding doors are used areas:
Protection smoke and fire
Sealing of entry and exit
Spare and emergency evacuation exits
Organization of tambour and gateways
At customer request, our company is ready to consider possibility of the designing, supply, installation and maintenance of the automatic doors.
We hope this information will be interesting and useful for you, please, contact our experts on the issue of cooperation in the production of automatic doors be the phone:
8-495-409-13-53 or mail armor@armor-russia.ru

Автоматические двери